The Civocracy platform offers several and complementary participation modules for your projects. When setting up your project, take some time to think about which modules fit best to your engagement project, taking into account your needs and expectations. Each module serves a certain purpose, which can be completed with other ones.
Keep in mind that our participation modules evolved lately allowing you to gain more flexibility in the modules you display and permitting you to choose a specific name for each of them. It means that you can call what we design as, for instance, an idea box, with the name you would like to give it, such as the "wall of inventions" or even the "inspiration chest". We trust you to be creative!


Let's go through each module, one by one:
the questionnaire format
the discussion/debate tool
the idea box type (including the e-mapping)
the quiz model
1. The questionnaire / survey 📋
Like with a traditional questionnaire, ask your participants closed or open questions to get to know them or easily identify their profiles, needs and expectations. A questionnaire is as quick and easy to build as it is to answer. You have the choice between several types of questions, adapted to your needs.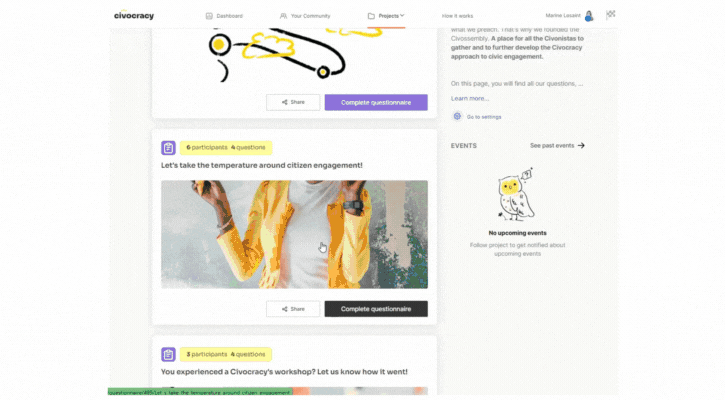 2. The discussion/debate tool 💬
The discussion allows a more in-depth debate around your chosen topic. It also requires more research from the participant. They can share their detailed contribution with others, supported by external documents (picture, video, PDF, link). They can also interact with each other by reacting, saving or commenting on contributions. With this, use the power of citizen collaboration to solve your most pressing challenges. Click here to learn more about the Discussion.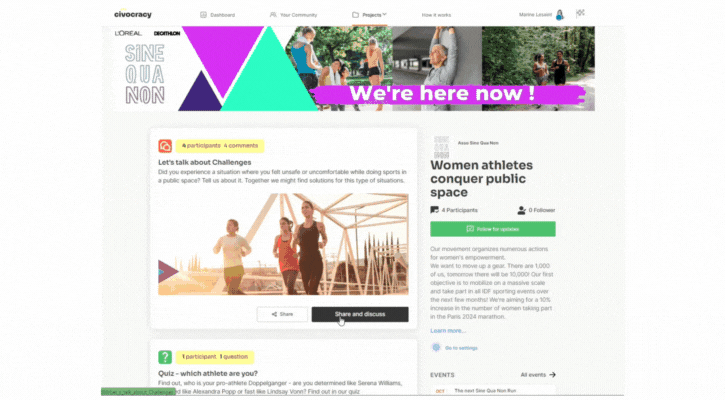 3. The idea box type (including the e-mapping) 💡
The idea box is an easy-to-use module, already set up in every community. It does not require a lot of commitment from your participants, who can drop their ideas in the box, all in 1 000 characters. With this, you can gather your citizens' needs by letting them add their ideas, even about a topic you have not chosen. This participation tool includes a specific feature: the e-mapping option🗺️
This innovative tool allows your participants to place pins on a map and leave comments on where they would like something to be located. For instance, where would you like bike parking stations to be in your city? Ask your citizens to locate them on a map. They can also upvote others' location suggestions.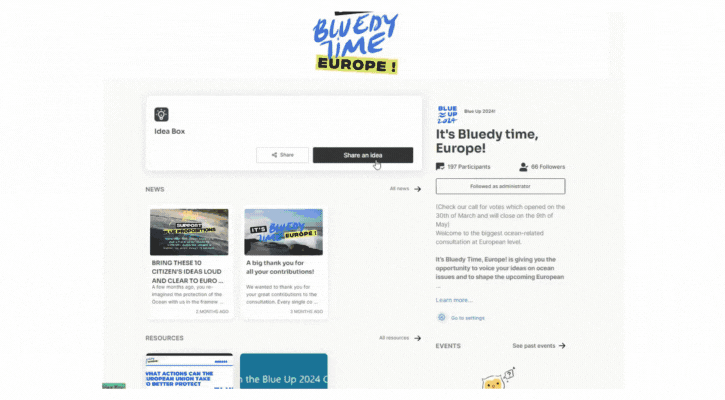 4. The quiz model ❓
The quiz model is a tool that allows you to offer your audience a quick and fun way to learn more about your project. It also allows you to measure your audience's level of understanding of the topic. You can parameter a set of questions (we do not recommend more than 8 or 10 maximum though) and for each of them, you can display a piece of information to bring knowledge to your audience. The participants will then know if they were right or wrong and they can take the quiz as many times as they like.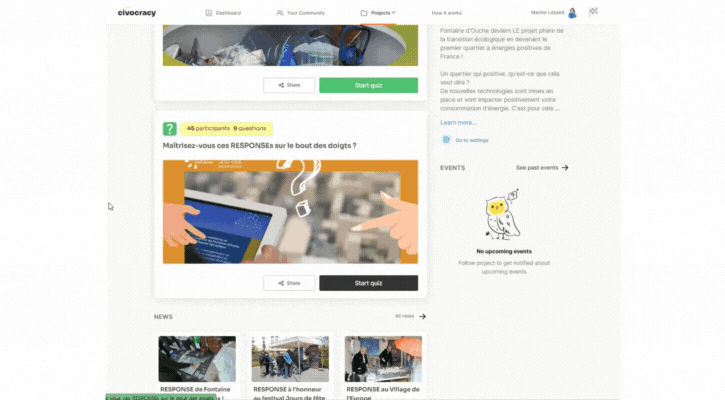 Feel like you need more help choosing the right participation modules? Our team of engagement experts is here to help you frame your project and choose the modules best fit your needs and expectations! Or would you like to have another one that is not on this list? Contact us at contact@civocracy.org