Now that your Community is created, it is time to set up your first project!
A project should deal with a single specific topic so that the purpose of the project is clear to everyone. Do you want to gather people around climate change? To mobilize your employees around an internal culture? Or do you want to improve the transportation services in your city? Gather people around your chosen topic, let them debate, and find great solutions together!
During the set-up of your project, you will be guided all the way! We divided this process into clear steps to make it easier for you. Click on the question mark icon on the right side of the page if you are looking for a quick explanation.
First of all, pick a topic for your project. It should be engaging and easily understandable by everyone, meaning, not too technical. During the setup phase, it is the perfect time to provide all information necessary to understand the project, such as the reason for choosing the topic, the goals you have set within your Organisation, and what you expect from the participants.
You have several ways of interacting with your community within your project: our participatory modules, such as a questionnaire format, an engaging and interactive module such as an idea box type or a discussion space.
🔔Your community is made up of all participants following your projects.
By doing so, the members of your community will receive notifications via email about what is going on on your project page such as a module opening or updates published. This is why it is important to encourage your participants to follow your page.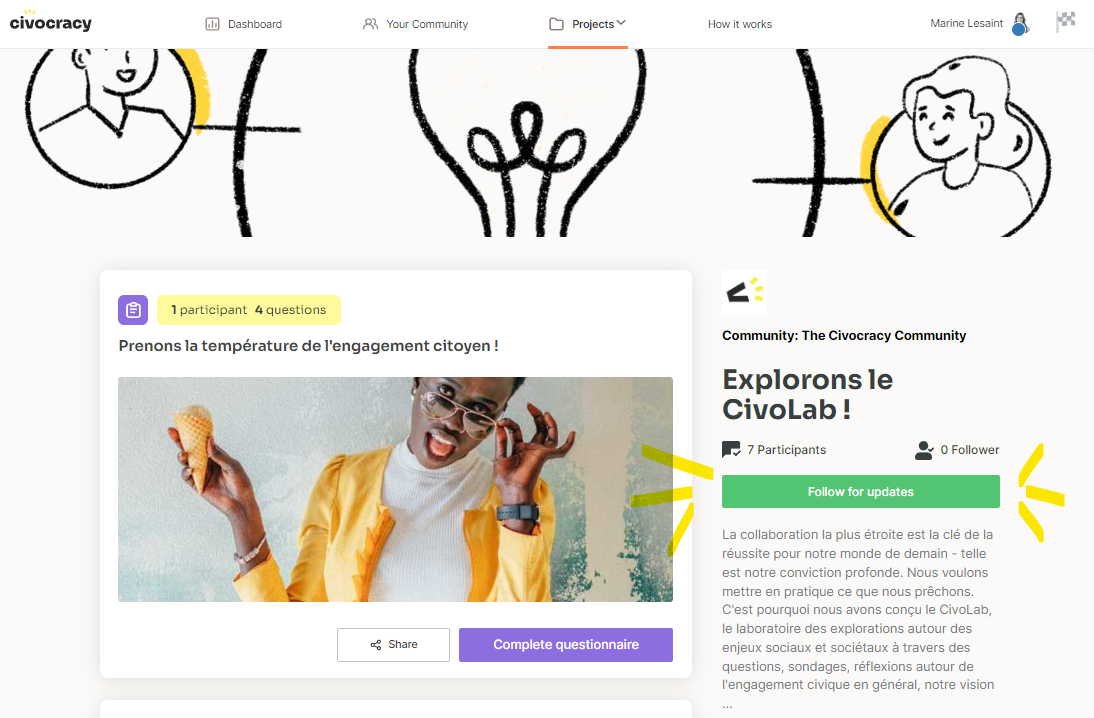 It is essential to explain what will be done with the project's outcomes once it is over: impact is the main reason why citizens and community members, in general, participate in such projects. By reading this, the members of your community will be aware that their contributions are read and valued.
The project setup is also the opportunity to present your Organisation to your community. You can write an informal message introducing your structure and the values driving your organisation. It will make the user feel closer to your Organisation and more prone to participate.

If you want to edit the settings of your Community page or to adapt the text of your Project page, please visit this link.
Feel like you need help setting up your project? Our team of experts is here to guide you all the way through, from strategic framing to user engagement. Contact us at contact@civocracy.org